Cleaner Degreaser
---
Contact Us
Contact Us
Cleaner Degreaser
*=required field
Powerful Degreasers and Cleaners for Precision Cleaning
Chemtronics® complete line of high purity solvents are the finest, most effective products made for the critical cleaning and degreasing of electronics, electrical assemblies, and sensitive components. Every degreaser and cleaning agent possesses unique properties suited to specific applications — from precision cleaning of solvent sensitive components to degreasing of electrical and electronic equipment. Several of these products can be used in benchtop ultrasonic, immersion, and vapor degreaser cleaning systems.
Electro-Wash® Cleaner Degreasers are engineered to clean a wide variety of soil, oil, grease, oxides and handling contamination, from equipment and assemblies that include:
Metal and fiber optic cable splices

Motors and transformers

Programmable Logic Controllers (PLCs)

Pneumatic and hydraulic assemblies

Electronics and electrical equipment

Meters/measurement devices
Max-Kleen™ Heavy-Duty Degreasers rise to the challenge of your most difficult jobs. These industrial strength cleaners offer fast, easy removal of grease, tar, asphalt, oil, and grime. For the extra-strength your tough degreasing jobs need.
Recommended for all degreasing applications including:
Clutches, armatures, generators, and compressors

Electrical motors and equipment

Bearings, chains, cables, pulleys and gear drives

Brakes, springs, and flywheels
Choose Your Product
Filter by attributes
Cleaning Method
Plastic Sensitivity
(Choose One)
Soil Type / Application
---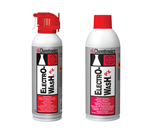 ---
FAQ's
Articles
---