Conformal Coating
---
---
Contact Us
Contact Us
Conformal Coating
*=required field
Use Konform® Conformal Coating for Maximum PCB Protection
Chemtronics Konform® Conformal Coating is used for spray, dip tank, and brush applications. They're engineered for applications in aerospace, marine manufacturing, electrical equipment, instrumentation, and data communication. They protect printed circuit boards, components, and flex circuitry from damage. These coatings provide excellent electrical insulation properties that withstand hot and cold operating environments, thermal shock, mold, and fungus.
All Konform® conformal coatings (except Konform LED) contain a UV indicator for improved quality assurance. They offer high dielectric strengths of 1100 volts/mil or more. These tough, transparent coatings will not fragment, chip, or crack, thereby providing excellent protection. All are convenient and ready to use — no mixing is required.
All Konform coatings are tested following the IPC-CC-830B standard to ensure they are well suited for coating sensitive electronics. Konform SR and AR are both certified for UL746E.
Coatings come in 2 main categories (although specialized coatings are also offered):
Acrylic Resin (AR)

: Provides fair elasticity and general protection. Recognized for their high dielectric strength, abrasion resistance, and ease of removal.

Silicone Resin (SR)

: Provides excellent protection in a very wide temperature range, good chemical resistance, salt spray resistance, and is very flexible. Removal can be challenging, requiring specialized solvents and long soak time.
Choose Your Product
Filter by attributes
Resin Type
Application Method
Operating Temp
Protective Properties
UL 746
---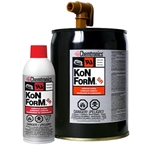 ---
FAQ's
Articles
---
The Ultimate Guide to Conformal Coating
Historically, the only circuit boards going through a conformal coating process were for mission-critical applications, like aerospace. The trend toward greater and greater electronic miniaturization and wearable electronics (PCB + electricity + sweat = problems) has led to a higher demand for the p...
Read This Post
How To Evaluate The Best Silicone Conformal Coating
2018 was a rough year for PCB assemblers who use silicone conformal coating. Many EMS buyers of silicone conformal coating have experienced shortages, with lead times going from days to weeks, then even to months. All the while, prices have started to skyrocket. Many engineers specify legacy sili...
Read This Post
8 Essential Tips for Conformal Coating Dip Application
For those of you considering dip application in your conformal coating process, the following are general guidelines to bear in mind when exploring this application method. There are a number of variations of dip coating of PCBs. The most basic is the manual, by hand method. Th...
Read This Post